Carrie Marshall, an accomplished vocalist, songwriter, and former classically trained pianist, has established herself as a versatile and captivating presence in the music world. Her artistic journey weaves through a tapestry of genres, including pop, singer/songwriter, jazz, blues, gospel, and country, creating a unique and soul-stirring musical experience. 
Born with an innate passion for music, Carrie's early years were enriched by her classical piano training. This foundation laid the groundwork for her deep understanding of melody, rhythm, and harmony, which she would later infuse into her eclectic repertoire. As she grew, so did her musical influences, expanding beyond the classical realm to encompass the rich tapestry of genres that would shape her distinctive sound. 
Based in the vibrant music scenes of the Carolinas and the Northeast, Carrie Marshall's performances have become eagerly anticipated events for music enthusiasts. Her dynamic stage presence and magnetic connection with the audience elevate each performance to an intimate and memorable experience. With a penchant for infusing popular songs with a jazzy treatment, she brings a fresh and enchanting perspective to well-loved tunes. Furthermore, her renditions of jazz and blues standards evoke a sense of nostalgia while showcasing her vocal prowess and emotional depth. 
Beyond the stage lights and the enchanting melodies, Carrie Marshall's life story unfolds as a testament to resilience, hope, and the transformative power of music. Carrie's journey took an unexpected turn when she faced the daunting challenges of breast cancer and a traumatic brain injury. These formidable adversities became catalysts for a new perspective—a lens through which she discovered glimmers of hope even in the darkest of moments. Her experiences served as a crucible, shaping her artistic expression and infusing her music with profound depth and authenticity. 
Incorporating these threads of gold from her personal journey into her performances, Carrie has become a beacon of inspiration for her audiences. Her shows transcend the realm of entertainment, offering a unique blend of captivating music and heartfelt storytelling. Each note she sings and every word she utters carry the weight of her own trials, resonating with those who have faced their own challenges. Through her artistry, she uplifts spirits, encourages perseverance, and ignites a spark of joy in those who listen. 
Carrie's unwavering commitment to her craft and her audiences is evident in her ongoing performances. Despite the hurdles she has overcome, she continues to grace stages across regions, sharing her gift of music and hope. Collaborating with top musicians in the Carolinas and Nashville, under the guidance of renowned producer Billy Smiley, she is crafting a musical legacy that transcends genres and touches hearts. 
As she navigates the intricate tapestry of her career, Carrie's dedication to her music remains unshaken. Her upcoming recordings promise to be a testament to her artistic growth, musical innovation, and unwavering spirit. With each note, she weaves a narrative that speaks not only of personal triumph but also of universal resilience. 
Carrie Marshall's journey serves as an inspiration to us all—a reminder that even in the face of adversity, the human spirit can shine brightly. Her story transcends the realm of music, offering a powerful example of how art can be a conduit for healing, empowerment, and shared experiences. As she continues to perform and share her music with the world, Carrie reminds us that every challenge can be a stepping stone to greater heights, and every melody can carry the promise of a better tomorrow.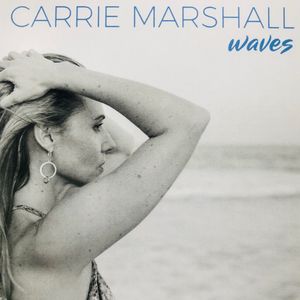 Carrie Marshall is a very versatile singer and songwriter based in North Carolina who has had a wide-ranging career. By the time she was a teenager, she was writing her own songs and lyrics. Since then she has performed frequently on the East Coast, lived in Nashville for four years where she worked as a session singer, recorded her debut album (Redemption), and moved to North Carolina in 2008. She has won such awards as singer/songwriter of the year in 2010 from the NC Songwriter Co-Op, 2012's Top Charlotte Vocalist from the Carolina Entertainment Network, and her song "Thoughts Unspoken" won the Top Ten Finalist award in the UK International Songwriting Competition in 2014. She has performed at such notable events as the Democratic National Convention, the Theatre Raleigh Songwriter Series, Jazz Arts Initiative (at the Blumenthal Theater), and Durham's Centerfest. The multi-talented Ms. Marshall, who joined the Moonlight Stage Company as the music director and songwriting instructor, has written music for films, been an actress, and released her CD Home in 2013 (new compositions written in the style of the classic songwriters including Cole Porter) and a Holiday EP Songs For Christmas in 2018.
            Waves is different than all of those projects. It features 11 of Carrie Marshall's songs, including "Monday Blues" which she co-wrote with Tim Ross. The music ranges from passionate bluesy explorations to quieter ballads, from rockish romps to moments of spirituality. Utilizing a band comprised of organist Chuckey Robinson, guitarist Scott Sawyer, either Darion Alexander or Ron Brendle on bass, drummer Jim Brock, tenor-saxophonist Dave Finucane, and occasionally Carter Minor on harmonica and Carrie's husband actor Estes Tarver on second vocals, the focus is primarily on the singer who also contributes some piano playing.
            On Waves, Carrie Marshall shows a great deal of variety in her singing. She is haunting on "Rainy Season" (a song with a "House Of The Rising Sun" vibe although covering a different topic), displays plenty of power on "Poor Wayfaring Stranger," is sensuous on the atmospheric "Under The Moonlight," and exudes a happy country feel on "Pollyanna." She hits some particularly strong notes at the end of "Monday Blues," is touching on the poignant love song "Me, My Lonely Heart, and I" (which has Dave Fox on piano), sounds intense on the rockish "Undone" (which features members of the group Peter Lamb and the Wolves), and is quite passionate on the blues ballad "Dividing Lines." Waves also includes the gospel ballad "Come Weary Child," "Phases" (which sounds like a vintage folk song), and the infectious "Waves" which has a powerful guitar solo from Scott Sawyer.
Not that many singers can sound sincere and musical in so many moods and styles, or write such thought-provoking and enjoyable songs. Carrie Marshall, who sings throughout with understated power, occasionally cutting loose in impressive fashion, has created a set of music that is filled with subtle surprises and inner heat. She is a talent well worth following.
Scott Yanow, jazz journalist/historian and author of 11 books including The Jazz Singers 
SOUND BITES 
By Courtney Devores
Charlotte Observer

Charlotte transplant Carrie Marshall is among the five songwriters featured at Matthews Alive's Songwriter Sunday - part of the Labor Day weekend family-friendly cultural festival's live music schedule. Marshall's latest release is "Home," which finds the singer-songwriter delving into original material written in the style of jazz standards. 

She's written and arranged "Home" in the cinematic style of Burt Bacharach or Cole Porter filtered through `70s AM pop, which today translates to easy listening, smooth jazz, and at times adult contemporary. It's classic, but it's also new. That's what's really exciting about "Home." Marshall has made the kind of record we don't hear often outside of artists like Diana Krall and Norah Jones. And "Home" is done extremely well with assists from producer/percussionist Jim Brock (Kathy Mattea), Van Sachs, Terry Peoples, and Mark Stallings. Marshall and this handful of co-writers and musicians have crafted an extremely polished, classic-sounding record in that style without making something that comes across as kitschy or retro.

Vocally it's obvious Marshall is capable of belting out country, pop, and gospel as well as the jazz and blues that fill her current repertoire. On "Home" she brings to mind contemporary jazz singers like Krall as well as some of the biggest voices of the `70s - Carole King, Carly Simon, Rita Coolidge, and a pre "Grease" Olivia Newton-John for instance. But while she shares qualities with those singers she carves out her own sound, while remaining stylistically versatile. 

"Sentimental Journey," for instance, is a nod to vocal groups like the Andrews Sisters with Marshall handling all the harmonies, demonstrating her range and versatility. More, please! 

The music throughout is subtle and Marshall's voice is lovely, but never over-the-top. You can clearly hear, for instance, each snare hit, cymbal shimmy and the low thump of walking bass on "Over the Moon." The fills are never showy on songs like "Carry On," a sunny, sing-songy track. "Don't Forget About Me" is a sultry samba laced with sax, piano, and guitar fills. There's a feeling of discovery and newness - as if she's observing places she's never been before or forcing a sunny outlook in the face of a new day - on songs like "Twelve Trinity Square" and "Carry On." 

Marshall isn't solely a jazz singer though. Knowing that, "Home" seems like it might be a self-imposed challenge for a seasoned singer-songwriter and music instructor to see if she could create a new collection that may easily be mistaken for jazz standards. If that was the case, she certainly meets the challenge. 

BIG HAT LARRY'S
by Chris Montgomery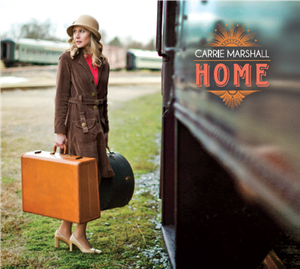 Veteran recording artist Carrie Marshall drives it home as a jazz singer-songwriter! There is little doubt fans will get lost inside the array of refreshing vocal arrangements. Her fresh and clean vibe is ideal for a romantic dinner or an evening backdrop with close friends. 

The aptly titled HOME features eleven tracks. Each song captures Marshall's signature jazz style laced with hints of R&B. "Thoughts Unspoken" puts the listener in mind of a smoky Havana bar, complete with sweat-stained suits and wicker ceiling fans. The imagery continues with "Twelve Trinity Square" and "Let the Heavens Say", with the exquisite singer tickling the ivories at the grand piano.
 
"Seven After Eleven" and "Sunny Day" have a mellow tone, reminiscent of fellow North Carolinian James Taylor. "Red Rose" incorporates a sultry, seductive feel with a touch of the blues.
 
Surprisingly, the standard "Over the Moon" was written in 2013, not 1940 as some might assume, with its reminiscent jazz standard, classic feel. Inspired by the birth of Marshall's nephew, there are clever references to the old nursery rhyme "Hey, Diddle, Diddle" woven within this feel-good, love song.
 
"Don't Forget About Me", is a rousing samba-like treat, including saxophone and guitar interludes. You can almost see the artist smiling while performing "Sentimental Journey", (a tribute to the Andrew Sisters) and "Carry On", although both share old memories and wintery seasons.
 
"There's A Long, Long Trail" is the perfect final page of a scrapbook full of musical photographs. Originally written in 1913, the artist gives this WW1 era song her own stylistic twist, while recalling days as a preacher's kid, playing out of tune pianos in old, musty church foyers.
 
An award-winning ensemble makes the difference. Jim Brock, a legendary percussionist, drummer and producer, produced and mixed the album. Bassist Terry Peoples assisted with arranging songs along with guitarist Van Sachs, who was the first to introduce Marshall to the Charlotte music scene. Brad Bailey, yet another collaborator and frequent performing partner, lent his talent on guitar to many of the tracks. Craig Nelson can be heard on the upright bass. Nashville producer, songwriter and guitarist Paul Buono, added his touch by recording vocals, guitar and added production as well as co-writing a couple tunes. Saxophonist Gabriel Bello, keyboardist Mark Stallings and and Nashville
Symphony Flugelhorn player, Steven Patrick rounded out finishing touches.
 
Simply put, both followers and newcomers will be happy to add selections to their audio libraries. Carrie Marshall delivers. These days that's hard to find, but it's definitely something to write home about.
 
 
WHAT PEOPLE ARE SAYING...
"Carrie Marshall possesses a wonderful voice and presents a wide variety of American classics as well as her own material. Equally comfortable alone at the piano or backed by musicians, you can easily detect the influence of the greats, but in the end you will acknowledge her ability to make the songs her own. Her vocal range and intelligent interpretation plant her firmly at the front of the class for today's performers."
- Victoria Clegg, Jazz Curator 
O.Henry Hotel
"In "Home" she's created a collection of originals that play like standards. It's a versatile record that riffs on the Andrews Sisters and Burt Bacharach as well as the contemporary jazz of Diana Krall (minus the brass and smoke) or Norah Jones filtered through 1970s AM pop singers like Carly Simon, Carole King, and pre-"Grease" Olivia Newton John."
- Courtney Devores
Charlotte Observer

"Take a little Diana Krall, add some southern blue-eyed soul, shake over ice & pour, and you've got a most tasty album!"
-Randy Franklin
Randy Franklin and the Sardines

" An artist that hopes for success must soak up all their experiences and be able to share them through their songwriting. This is no easy task but as with any skill, with enough practice you can perfect it. Our recent discovery Carrie Marshall has been hard at work exploring her art for years and is still expanding her reach." 
-Keith Pro, www.indiebandguru.com 

"You sound terrific! Keep doing what you're doing..."
Charlotte Today, NBC

"Carrie Marshall's...already made quite the impression in the local music scene."
- Page Leggett
Lake Norman Magazine

"She's really great. You see that right there and go,  'Why is she not nationally known?'"

-Larry Sprinkle
WCNC NBC News

"The jazz singing, piano player delivers a classic and romantic style that's gaining popularity locally."

- Laura Fenton Pidge
Ft. Mill Magazine

" Carrie Marshall is one of the best talents we have the pleasure of working with.  A true professional!"

- Brandon Crumpton
Key Signature Entertainment